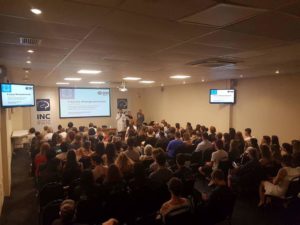 On January 24th and 25th of this year, the teacher Marco Pintucci worked with a multidisciplinary group that was studying headache sufferers. This work took place at Instituto de Neurologia de Curitiba (INC), an excellent neurology based private hospital in the Parana region of Brazil.
The responsible neurologist and physiotherapist, along with Marco, created a small protocol of Centers of Coordination and Centers of Fusion to be used to diagnose and treat patients suffering from migraine and non-migraine type headaches.
Also, Marco held an introductory type Fascial Manipulation workshop with two practical demonstrations. The workshop was a huge success with about 120 participants including neurologists, anesthesiologists, orthopedists, physiotherapists, psychologists, nurses and nutritionists.